If you're looking to get into the luxury Sherman Oaks Real Estate market, there is no better time than now. Sherman Oaks offers a plethora of appealing options for buyers and sellers, and the market is as hot as the California sun. Sherman Oaks homes feature an exciting variety of styles and features to compliment the coveted Los Angeles lifestyle and have been growing steadily in value. Whether you are looking to invest in a property for reselling or purchasing your dream home, the Sherman Oaks real estate is full of exciting opportunities.
Sherman Oaks sells itself
The first thing to know about luxury real estate in Sherman Oaks, California is that the location couldn't be better. Close enough to Los Angeles to commute but without sacrificing its elbow room, Sherman Oaks offers a unique perspective on California living. You can enjoy spreading out in the vibrant natural environment of your neighborhood while still enjoying quick access to the nightlife and dining scenes of other trendy areas. Despite being a short drive from multiple freeways, Sherman Oaks maintains a small-town feel.
Owners of Sherman Oaks homes find themselves surrounded by abundant natural beauty, highlighted by the majestic Sant Monica Mountains dominating the southern landscape. In the neighborhood itself, there are plenty of luscious green parks and a verdant landscape to enjoy. With a lower population density than most of Los Angeles, residents are privileged with a peaceful, private atmosphere.
Luxury Sherman Oaks real estate excels in combining natural beauty with contemporary modern convenience. The Sherman Oaks Galleria and Ventura Blvd offer an impressive range of shops and attractions with multiple award-winning fine dining establishments, high-end luxury boutiques, and the famous ArcLight Theater providing even the most discerning patrons options for recreation.
Perhaps nothing showcases Sherman Oaks' appeal more than its luxury real estate market. With a plethora of well-appointed extravagant homes and apartments, there is no doubt that you can find your dream home, or sell it, in Sherman Oaks.
The Sherman Oaks real estate market is hot
Featuring a median list price of nearly $2,000,000, the real estate sales in Sherman Oaks continue to rise with a nearly 200% increase in the past month. If you're looking to make a bold move that will yield a strong investment, this seller's market in Sherman Oaks is ripe for the picking. From the single and multiple-family homes market to the luxury apartment and condominiums sector, there are plenty of opportunities to be had.
Investing in Sherman Oaks real estate is a great way to maximize profits. Those looking to have a robust return on investment by turning over properties can find no shortage of buyers ready and willing. Home prices are up over 10% compared to last year, and are selling after just a month on the market — nearly 20% faster year-over-year.
For buyers looking to call Sherman Oaks home, the neighborhood offers everything one can hope for. The sleek and sophisticated architectural styles located in a low population area make the homes of Sherman Oaks highly attractive. Live close to the big city while continuing to live comfortably in a beautiful residential neighborhood. Have the residence you've always wanted in the location that has it all.
Luxury makes a difference
When it comes to living a luxurious lifestyle, Southern California has a corner on the market. People the world over can envision life among the Hollywood Hills, and what these people dream of is what Sherman Oaks can deliver. Nestled in the shadow of the mountains and attracting the finest clientele, the Sherman Oaks real estate market is second to none. Its proximity to the rest of Los Angeles and the Pacific Coast combined with the finest schools and amenities makes Sherman Oaks a cut above the rest.
The variety in architectural styles gives Sherman Oaks homes a touch of class rarely seen in the suburbs. With models ranging from traditional ranch style to sprawling estates, the discerning home buyer is certain to find several incredible residential opportunities to consider.
There are rustic, old-world-style homes among upscale, contemporary designs. Decadent penthouses featuring every imaginable amenity sit alongside townhouses and condominiums aplenty. Sherman Oaks boasts a collection of homes to satisfy any taste within minutes from high-end shopping and convenience, giving Sherman Oaks real estate a standout among other regional luxury communities.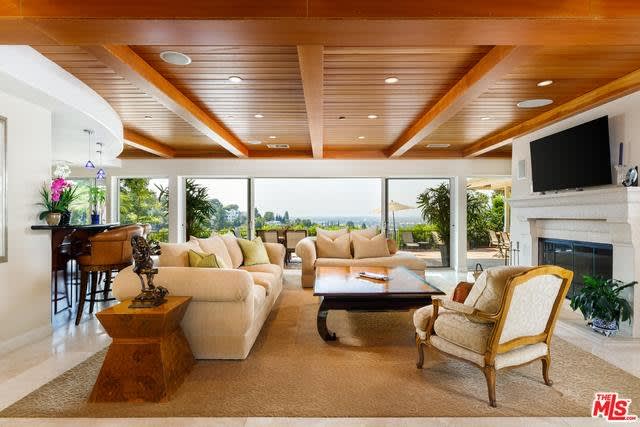 Why you should invest in Sherman Oaks homes
The location is second to none. The market is hot. The class and sophistication of the real estate in Sherman Oaks are high-end and luxurious.
If you're looking to enjoy a suburban residential experience while having access to the variety of a major metropolitan area, you can find the home of your dreams in Sherman Oaks. If you want a gorgeous residence in an upscale neighborhood surrounded by nature's beauty, you can find it in Sherman Oaks. If you're not planning to move here but are looking for a solid investment, you can find it in Sherman Oaks.
When you're ready to navigate the real estate market, don't hesitate to reach out to local agent Barry Dantagnan to attend open houses and for expert guidance when searching for Sherman Oaks homes for sale.